For me, the lure of sailing is the ideal combination of tradition and innovation, relaxation and excitement. The self-enforcement of discipline and order, and anticipation of the unexpected that invariably occurs at sea.
Lessons learnt in sailing, I believe can certainly be applied to today's businesses, families and other areas of life. For example at sea, I learned:
how little a person needs, not how much
and
how wind to a sailor is very much what money is to life on shore.
I'd love to one day, perhaps during early retirement, take young boys & fathers out on bonding, "back to nature" trips to enforce some of the life skills that are so often missing in the buzz of electronic & car based town life and entertainment.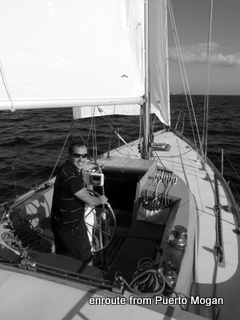 I started yachting in late 2011 and have since sailed over 18 days and 3 night passages almost 400 n.m. (nautical miles) in:
The Canary Islands x 3

Gibraltar x 2
Spain x 3
Morocco
I'd love to one day sail across the Atlantic and perhaps sail around Greece, Polynesia, The British Virgin Islands, New Zealand, Fiji and Samoa.
The Lure Of Blue Water Cruising
Getting carried away with the romantic side of ocean cruising is all too easy. All those dreams about trade winds blowing over palm fringed beaches and idling across entire oceans on the back of steady breezes,escaping the drab routine of everyday life, setting off into the blue exploring life on a small ship in a wide sea….
It's a dream shared by many but realised by few.
Sailing Advice
If there is one word I'd use to sum up all the advice I'd ever give on sailing, it's would be "dependable".
Your crew, yacht, tools, materials, plans – You should know that they are should be "dependable", should anything go wrong.
I use lists I've created to ensure that everything is diagnosable, accessible and everything has a back-up option.
Be a Dependable Skipper – Get qualified
For Mediterranean sailing the ICC (International certificate of competence) is enough to start with, but on any waters that have tides – you'll be looking to get the RYA "day skipper" certificate, and before that the RYA "competent crew" certificate.
Have Dependable Documentation
Carry a crew & boat list for the authorities (keep several copies or print a special boat stamp and card to use)
The useful website http://www.noonsite.com/ will help you know what you'll need in each country you sail to.
The crew list should include the following:
The names of the skipper and all crew and their date and places of birth
Passport numbers, places and date of issue and nationalities
The boat list should include:
Boat name, flag, port of registration
call sign
Brand and model of yacht
Length, beam and draft.
net and gross tonnage
Construction material
Number of masts
Brand and horsepower of inboard motor
Number, brand and horsepower of outboard engines and type of fuel used.
A dependable plan when the wind gets up:
When in doubt and the yacht is moving under wind, either in the harbour, close to shore or out at sea, use my heavy weather sailing checklist.
Here's a handy wind speed conversion chart: http://weather.org/conversion.htm
Sail dependable waves
When sailing, we tend to worry about wind strengths, but it is usually waves that cause the most damage. So here's where to get the best sea state forecasts:
US Navy website: www.usno.navy.mil/FNMOC/ (click on 'oceanography products')
Surfing site: magicseaweed.com
Waves are often at their steepest and most dangerous as they near the coast. Wave height is a crucial consideration when entering a harbour, especially if there are any sandbars at the entrance. If in doubt, stay out for the night or seek a safer harbour.
Dependable anchorage
Always have an exit strategy planned wherever you set anchor, in case the wind shifts or blows you off at night.
Dependable Fog precautions
Although somewhat similar to the heavy weather precautions, here's my "fog checklist" which differs slightly.
Plot position at first sign of worsening visibility
Maintain plot eg with GPS
Hoist radar reflector if not permanently rigged
Put on lifejackets
Launch or at least prepare dinghy
Increase lookout and, if under power, stop engine periodically to listen
Sound foghorn every two minutes
Consider sounding into shallow water (big ships won't catch you there)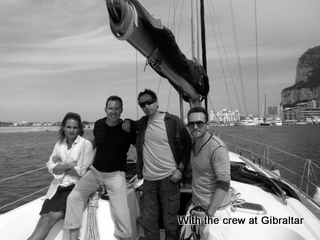 Skippers Mantra:
Is the boat safe? Are the crew safe?
If so, then check…
Is the boat happy? Are the crew happy?
If so, then you've done your job well.
2 very useful sailing acronyms:
When doing the daily engine check before setting out: "WOBBLE"
Water, Oil, Belt, Bilges, Leaks, Everything & Electrics/Battery
When hoisting / bringing down the mainsheet: "KMT"
Kicker Ease, Mainsheet Ease,Topping Lift On
When the main is up and ready, backwards KMT – "TMK"
Topping lift off, mainsheet tighten, tighten kicker
Apart from the sailing checklists and cheatsheets contained on this blog, I've for 3 useful ones at http://checklistables.com/tag/sailing/ as well.
Finishing off with my dream boat: