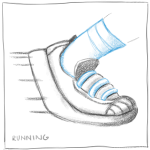 Distance 10km (6.2 miles)
World record 26:44 (road race)
Your target 45 mins
Run a 10K – Use it to sharpen up your 5K or give your lungs a going over ahead of a half-marathon.
Prepare for a 10k:
Do '10-10s'. Repeat 10-minute runs at 10K goal pace, with a 3-5 minute jog after each. Aim for 4-5 repeats. This will improve your endurance and efficiency. Running economically will help you run faster and longer. That means using as little energy as possible with each stride by ironing out flaws.
Remember to run as though you're on top of clouds, You'll run taller, becoming less of a slow-footed heel-striker and more of a fast mid-foot runner. Keep your elbows close to reduce tension and shoulders relaxed to encourage better breathing.
Don't be afraid of running up hills:
You'll notice the benefits of hill training in the last third of a 10K race. It strengthens your quads so you can power through to the finish.