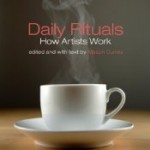 By Mason Currey
In this entertaining, if somewhat repetitive, collection of daily rituals of nearly 200 of some of the greatest minds of the last four hundred years, you'll hear the daily routines of famous writers, thinkers & artists.
I listened to the book on Audible, usually during short driving trips. Here's the link if you'd like to buy the Daily Rituals Book for yourself or as a gift.
Obviously, having a reoccurring daily routine such as a morning ritual is a pre-requite to achieving any long-lasting success at a chosen craft or skill, but here is a list of the themes that seemed to appear with each of these 161 inspired and inspiring folk:
Getting up very early or working very late
Having a daily scheduled, uninterrupted time for "getting things done"
Never working "too much" (most of their best work was done in a very short time-span daily, leaving room to think, socialize, read & relax)
Taking naps
Taking walks in nature (or other forms of exercise)
Ingesting chemical stimulants ( coffee, alcohol, smoking, consuming drugs)
Among other things, this book will make you feel better about your own procrastination and odd habits!
The book makes one thing abundantly clear: There's no such thing as the way to create good work, but all greats have their way. And some of those ways are spectacularly weird.