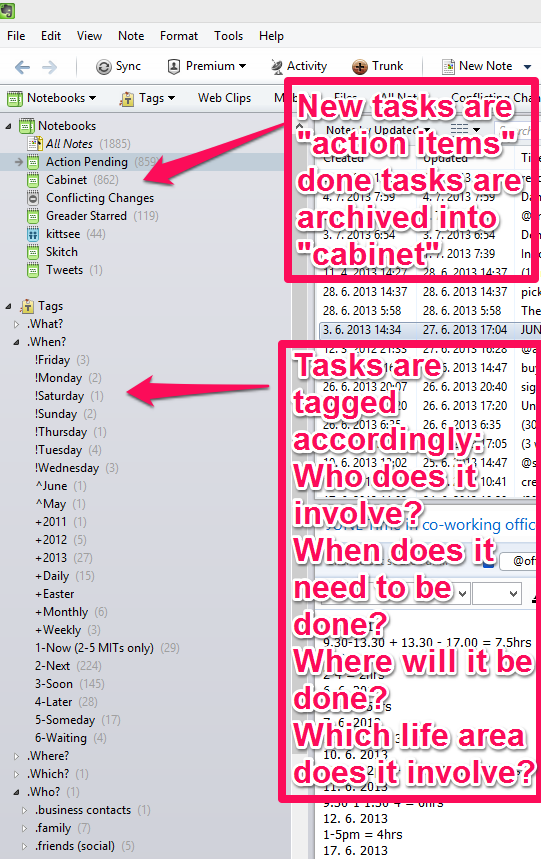 Here's how a simple guide on how to make Evernote your ultimate task management tool for getting things done (GTD).
1. Empty your head
Every task, goal, dream, thought, email, photograph conversation that needs acting upon goes into Evernote as new note.
It's enough to create a note with the task as the title without any information in the actual note itself unless you really need it. For Example, I create a new note in the notebook "Action Pending" with the title:
Write a blog post about Evernote task management for danielshaw.sk
2. Tag the task
Every note is tagged accordingly:
Who does the task involve, who is it done with, who is it done for?
For example, the task above, "Write a blog post about Evernote task management for danielshaw.sk " is tagged with:
"me" "blog post writing" "2-next"

as it's a task to be done by me, involves only me, is blog post writing, and should be done once I have my "1-Now" most important tasks done for the day.
3. Mind Like Water – All your tasks in one place.
Keep this notebook in Evernote updated by adding every task that pops into your head (I create notes automatically on the fly by sending any emails that have a task I need to do, photographs of objects, voice recordings, web clippings, scanning any paper to-dos) into your Evernote account. You'll finally have a list of all the task that needs doing.
Checking and updating this list is a core part of my morning routine.
4. Once any task is complete, it's then moved to the "cabinet" notebook, just in case I need it for later reference, and to see all the tasks I've done in the past.